Posted on

September 2, 2022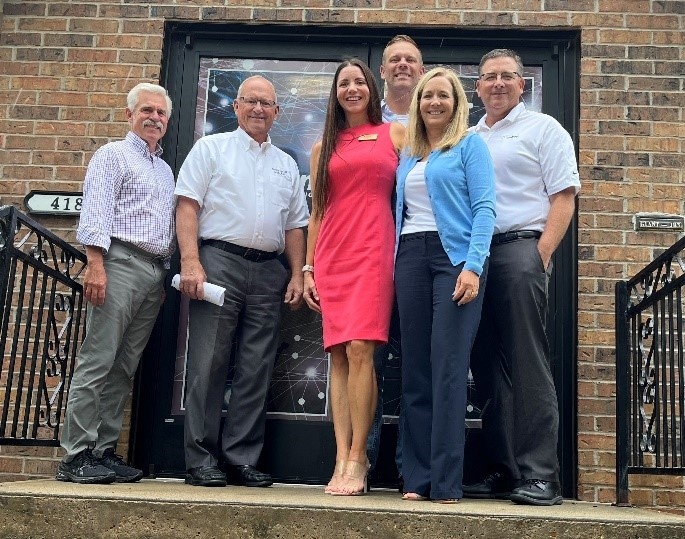 Photo L-R:  Mark Wade (Giant Communications), Rep. Randy Garber, Jade Piros de Carvalho (Kansas Office of Broadband Development), Austin Taylor (Giant Communications), Candace Wright (Blue Valley Technologies), and Jason Smith (Rainbow Communications)
Broadband is needed as any utility for a community to survive and prosper. As a member of the Communications Coalition of Kansas, Rainbow's General Manager, Jason Smith, met this July with the newly appointed Director of the Kansas Office of Broadband Development, Jade Piros de Carvalho, to explain the challenges and opportunities of providing state-of-the-art broadband service in high-cost rural areas.
The introduction of a new federal grant program for broadband development sparked the meeting between CCK members and Ms. Piros de Carvalho, who will be overseeing $83.5 million in grant awards via the Capital Projects Fund. According to the Kansas Office of Broadband Development, a priority of the program is to expand broadband to Kansans who lack internet speeds of 100/20M. On August 25, the KOBD stated that 141 applications were submitted, totaling over $600 million in requests for the $83.5 million in available funding. The shocking amount of requests demonstrates the need for broadband networks in high-cost rural areas.
Rainbow will continue to advocate for the necessity of fiber broadband networks and partner with local municipalities and tribes to enhance local communities with exceptional broadband service. Local Rainbow partners, Doniphan County & the Iowa Tribe of Kansas and Nebraska, applied for the CPF grant to bring some areas high-speed internet where service is lacking.
The Kansas CPF grant awards are expected to be announced in the fall of 2022.
---