Posted on

June 9, 2021

Rainbow donated more than 1,500 bookmarks to eleven local libraries to be handed out as part of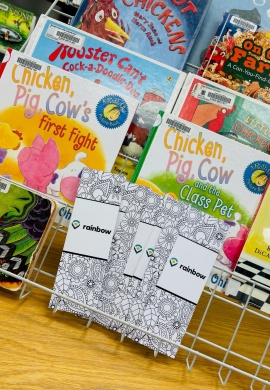 their Summer Reading Program.
The summer reading program is a great way to encourage kids to continue reading throughout the summer. With a very easy sign-up process, the program is broken down into age groups. Dependent on the age, some children are encouraged to read 20 books, while others have the option to log 8 hours of reading.
No matter how big or small, this is a great program to get your children involved in. Check out your local library to sign up!
Atchison Library
Monday- Thursday 9am-6pm
Friday 9am-5pm
Saturday 9am-2pm
Library District #1- Elwood
Mon- Fri 11am-6pm
Effingham Public Library
Monday, Wednesday 10am-4pm
Tuesday, Thursday 2pm- 6pm
Friday 10am-2pm
Saturday 10am-noon
Everest Public Library
Monday 12pm-6pm
Tuesday-Saturday 9am- noon
Morrill Public Library- Hiawatha
Monday-Thursday 9am-8pm
Friday 9am-5pm
Saturday 10am-4pm
Library District #1- Highland
Mon-Thurs 10 am-6pm
Fri 10am-5pm
Horton Public Library
Monday- Friday 1pm-7pm
Saturday 10am-2pm
Mary Cotton Public Library- Sabetha
Monday, Wednesday 9:30am-8pm
Tuesday, Thursday, Friday 9:30am-5:30pm
Saturday 10am-4 pm
Seneca Public Library
Monday-Thursday 9am-7pm
Friday 10am-5pm
Saturday 9am-1pm
Library District #1- Troy
Mon-Thurs 9am-7pm
Friday 9am- 5 pm
Saturday 9am- 1pm
Library District #1- Wathena
Mon-Fri 11am- 6pm
Saturday 9am-1pm
---