Posted on

September 16, 2015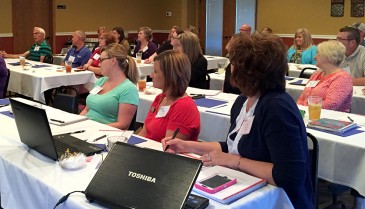 In July, Rainbow Communications offered small business seminars in Seneca and Horton to help company owners and managers understand inbound marketing and how it can be used to attract business. The seminars featured speakers from New Boston Creative Group.
Inbound marketing includes promotional activities that lure customers to the company, including:
Search engine optimization (SEO) – strategies that companies and their Web developers can use to increase the chance their website pages will rank highly in search engine results (and therefore be found more frequently by prospects)
Content marketing – the development and strategic placement of useful content (such as success stories, blog posts, articles, and infographics) that potential customers might be looking for
Social media – Web applications that allow businesses to interact directly with customers and share news, information, and announcements
Video – can be used to build trust by creating useful how-tos, company introductions, or facility tours
Remarketing/retargeting – the use of ads targeted to people who have already visited your website to encourage them to return
Email marketing – the use of email messages sent to targeted recipients to let them know about news, specials, and deals
Business listings – listings in business directories that potential customers might visit
Data monitoring and analysis – collecting and processing information about customers to find useful trends that help guide marketing efforts
These methods all take into consideration that, with the rise of the Internet, consumers now take a much more active role in finding companies to do business with. A much larger percentage of their awareness of your company happens before they even contact you. They do plenty of initial research, and trust is a big determining factor in who they choose.
The seminars covered these methods in detail and provided descriptions of companies that have used them successfully. These companies made the shift by changing their perspective of what marketing looks like and setting up processes and systems to meet new goals. Seminar participants were able to gain tools — including reference materials and resources — to put inbound marketing methods into practice immediately.
Participants at both seminars overwhelmingly reported they were "very satisfied" with the events overall, as well as specific aspects like price, content, location, and speakers.
Here's what people shared in the exit survey:
"I thought it was very helpful and I learned so much."
"Great job – excellent content! Very excited to implement what I learned!"
"Got some great ideas to try in the office! Thanks for hosting these events!"
"Very informative. The speakers definitely know their stuff!"
Are you interested in hosting a seminar to build business in Northeast Kansas? We want to hear from you!
---