Posted on

September 1, 2015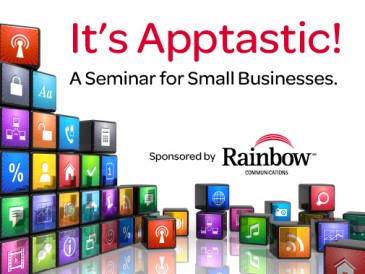 Small businesses may not have the same resources as large companies, but there are many tools that can help them improve efficiency and promote their products and services. Rainbow Communications is always looking for ways to educate our small business customers on free or low-cost tools to help them grow. So in 2014, we presented two "It's Apptastic!" seminars to teach local businesses about available applications to help their companies.
"The purpose of the seminar," says Stacy Simmer, PR/Community Development Coordinator, "was to help small companies utilize the resources available to them without having to hire additional staff, or spend a lot more money."
Carissa Swenson, Owner and Technology Specialist at TechTECS, discussed:
Google Apps for Small Business – How to use Google Drive, Calendar, and Gmail to run your business more efficiently

Google Drive: documents, spreadsheets, and forms
Google Calendar: appointment function, public calendars, and color coding
Gmail: customized email addresses, syncing with Google Calendar

Digital Connections – The latest and greatest ways to connect with customers online

Choosing the right platforms for your business based on company size, goals, and target audience
Creating a reasonable online marketing plan and starting with one or two social media sites at a time
Putting forward the right image and protecting your company's reputation online

Helpful and Fun Internet Tools – Awesome websites to increase productivity and improve marketing efforts

Animoto (animoto.com) allows users to create professional videos, which are a great marketing tool, using photos or video clips.
Lastpass (lastpass.com) saves passwords for online accounts, then automatically populates password fields when the user opens an account. 
Dropbox (dropbox.com) is a storage service that allows users to access files from multiple devices.
Doodle (doodle.com) enables meeting scheduling when participants don't all use the same calendar type.
Khan Academy (khanacademy.org) provides educational information about science, math, and business.
Hootsuite (hootsuite.com) is a social media dashboard that helps users manage several social media accounts
Are you interested in hosting a seminar to build business in Northeast Kansas? We want to hear from you!
---