Posted on

March 16, 2020
March 23, 2020
Like you—and everyone in our nation and across the world—Rainbow is watching the news about COVID-19 carefully and doing what we can to respond thoughtfully and responsibly. The communities we serve are strong, and together we'll all get through this challenging and unprecedented situation. Our focus is on the health of our customers and our employees during this time. We want to make sure you have access to the services you need, while we protect our employees and follow the guidelines set by the state and federal government.
Here are some important things to know during this time: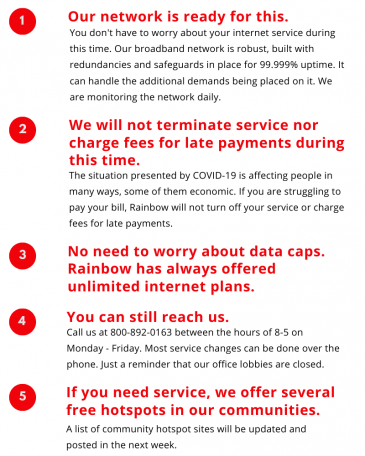 Our communities, our country, and our world are resilient places. Together, we'll see our way through this situation and be stronger because of it. Thank you for helping us all stay healthy.
March 16, 2020
At Rainbow Communications, we are dedicated to putting people first. With the growing threat of the COVID-19 outbreak, we are committed to the health and safety of our employees and customers in our serving areas. 
Beginning Tuesday, March 17, Rainbow Communications will limit access to its business office locations to employees only, as we try to help suppress the threat of COVID-19. We ask that customers consider connecting with us in the following ways:
Over the phone. Customer service representatives and technical support can always be reached at 800-892-0163. 
On our website. We have nearly endless information on our website available. Whether you want to see what speed is available in your town, learn how to install YouTube TV on a Roku device, or make a payment, it can all be done here!
Office dropbox. If you are needing to drop off a payment, all of our office locations have an outdoor dropbox. 
Through social media. We are very active on our company's Facebook page. Stay up-to-date with our current information by liking our page.  
In addition, all service calls that require a service technician to enter the home will be suspended until the COVID-19 threat has been mitigated. 
Customers who would like to upgrade or make changes to their existing services may do so by calling into the office. Most upgrades can be made without an in-home visit. 
Our staff will continue to troubleshoot and repair any service issues located outside the home. For any service issues inside the home, our staff will be available to troubleshoot over the phone.
We sincerely appreciate your patience and understanding as Rainbow does its part in ensuring the health and safety of our employees and our customers. We will continue to review recommendations and seek guidance from local, state, and national agencies and implement additional precautions if necessary. If you have any questions, please contact us at 800-892-0163. 
---