Posted on

February 27, 2019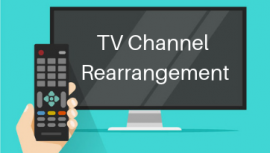 We've got exciting news for you! In an effort to offer the best TV viewing experience available, we are replacing any standard definition channel that has a corresponding high definition channel. We will use the high definition stream on the existing standard definition channel number.
Say what?! Yes, we know! That sounds confusing. What we are saying is, for example, before you went to channel 234 for ESPN and now you will go to channel 34. It's that easy?? Yes, it is!
You will not notice any change in TV programming. As a matter of fact, Rainbow Communications doesn't have any control on the content that networks play or even what time they play shows. Our part is solely delivering the service to you, and hopefully now, you will notice a more crystal-clear viewing experience.
The channel rearrangement begins the week of March 11 on the Basic tier and the week of March 18 for Bronze, Silver, and Gold tiers. Want to see how the channel rearrangement affects your town? Click here to view your town's updated channel line-up.
---