Posted on

May 10, 2018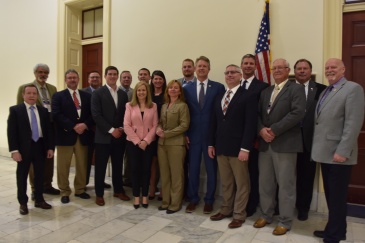 Jason Smith, General Manager and CEO from Rainbow Communications met with the offices of Representatives Olson, Marshall, Jenkins, and Estes as well as Senators Moran and Roberts in Washington, D.C. to discuss the importance of ensuring sufficient funding is available to support ongoing delivery of robust, reliable and affordable broadband services to rural communities in Kansas.
The high-cost Universal Service Fund (USF) is the primary mechanism by which broadband infrastructure is deployed in rural areas, and Smith emphasized that despite recent actions by the FCC to address the immediate USF budget crisis, the program's current budget is not sufficient.
"We are concerned that these USF programs, due to insufficient and unpredictable budgets, may be falling short of achieving our country's mandate to provide reasonably comparable telecommunications services at reasonably comparable rates to rural and urban Americans alike," said Smith. "We think Congress has a role to play in encouraging the FCC to act."
Smith was in Washington to participate in NTCA–The Rural Broadband Association's Legislative & Policy Conference, April 16–17. Nearly 500 rural telecom representatives from all over the country gathered in the nation's capital for educational briefings about emerging rules and regulations and other industry issues. They also took part in visits to policymakers on Capitol Hill and the FCC.
---