Posted on

January 22, 2018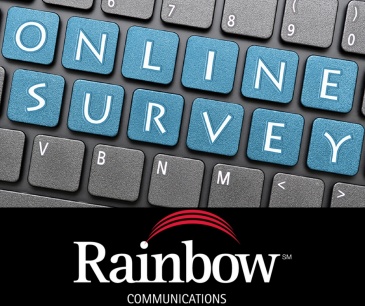 Rainbow Communications invites you to participate in a brief survey to let us know how we're doing and tell us about you needs with it comes to viewing TV! Your honest opinions and feedback are important to help us understand how we can best serve you in the future.
In exchange for your time and input, you will have the opportunity to win the following:
$300 Mastercard Gift Card (1 chance to win)
$100 Mastercard Girt Card (2 chances to win)
Respondents must complete the survey by midnight on Sunday, February 11, 2018.
Your responses will be used for research purposes only.  Your responses will be kept anonymous and will never be used for any direct marketing or sales purposes. To ensure confidentiality, Rainbow Communications has engaged Pivot Group, a respected national research firm, to conduct this survey.
Click Here to Start the Survey
If you have any quetions, please call Rainbow Communications customer service at 800-892-0163. If you have questions about the survey itself, send an email to surveysupport@askpivot.com.
Thank you for your time. We greatly appreciate your feedback!
---